Posted by Greg J. on Aug 15th 2022
When you need to know that your scale is calibrated correctly, you require a NIST traceable calibration. But what is NIST and why do their certifications matter?
Keep reading to learn more about this process and where you can get your scale professionally calibrated for the most accurate measurements.
WHAT IS NIST?
NIST, or National Institute of Standards and Technology, is a federal organization under the U.S. Department of Commerce that, among other things, develops and maintains universal standards for measurement and calibration. These standards are used across a variety of industries, including manufacturing, construction, and agriculture in an effort to "promote American innovation and industrial competitiveness."
WHAT IS A NIST TRACEABLE CALIBRATION?
NIST traceable calibration means that the measurement results reported on the calibration certificate are traceable back to NIST mass standards because the mass standards used to calibrate your scale are traceable back to NIST mass metrology standards. In order for something to be NIST traceable, it must meet specific guidelines set by the organization.
The NIST defines traceability as a "...property of a measurement result whereby the result can be related to a reference through a documented unbroken chain of calibrations, each contributing to the measurement uncertainty." In other words, the calibration weights we use are traceable back to NIST mass standards, and each link in the calibration chain between our calibration weights and NIST mass standards adds to the uncertainty of our calibration weights.
WHAT MAKES MEASUREMENT RESULTS NIST TRACEABLE?
There are several main requirements that need to be met in order for something to be deemed NIST traceable:
What is being measured must be clearly defined.
The working standards used to make the measurements must be defined.
The measurement results must be stated.
Documentation of the specifications of the reference standards that the working standards were compared to, as well as when the reference standards were last calibrated.
An internal program is followed to maintain the integrity and traceability of the working standards.
If all of these requirements are met, then the measurement results reported would be considered NIST traceable.
WHO NEEDS A NIST TRACEABLE CERTIFICATE?
Calibration certificates are typically required for most types of measuring equipment and devices at manufacturing facilities, laboratories, and any other industries that have strict quality systems. At Scales Plus, we generally recommend a NIST traceable report for those customers who are not engaging in legal-for-trade activities and want quality assurance.
The most common reason a Scales Plus customer purchases a traceable calibration report is quality assurance. A scale that is out of calibration or damaged from the factory can lead to significant downtime and lost productivity. A calibration certificate provides assurances that the new scale performs within the required specifications and is in proper working order. The test also verifies the calibration function works correctly.
Check out this related blog post to learn more.
WHAT IS THE DIFFERENCE BETWEEN ACCREDITED AND TRACEABLE CALIBRATION?
Accredited calibration means that the calibration lab has been accredited by a third-party organization and has the capability to provide calibration services as specified in its scope. A traceable calibration, on the other hand, means that the measurement results of your scale calibration can be traced back to NIST standards.
So, while accredited calibration labs provide traceable measurement results, not all traceable calibration measurement results are accredited. In order for it to be both, the lab would need to be accredited by an authorized third-party organization for the specific calibration service AND meet NIST traceability requirements.
WHAT IS THE DIFFERENCE BETWEEN A TRACEABLE CALIBRATION AND A PLACE-IN-SERVICE TEST?
Most notably, a state-certified technician must calibrate and seal NTEP scales used in legal-for-trade scenarios. In most cases, the scale must be onsite and connected to all peripherals before completing a place-in-service test. Once completed, a seller can legally use the scale for direct sales.
A traceable calibration report provides the end-user with a verification that the scale works to the required specifications. The traceable calibration report is used as a quality check and for internal and external audits only and does not authorize the end-user to use the scale for direct sales.
Check out our full blog on the difference between a traceable calibration and a place-in-service test to learn more.
WHAT IS A NIST TRACEABLE NUMBER?
A NIST traceable number is typically a test report number or calibration certificate number that can be used to support traceability back to NIST standards. This number is typically found near the top of calibration certificates and reports.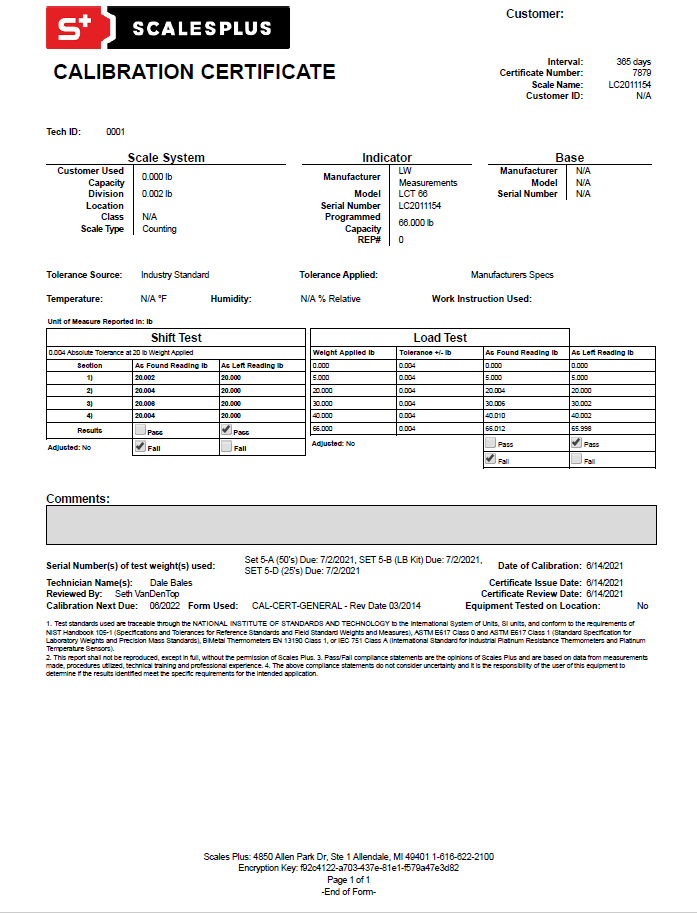 HOW LONG IS CALIBRATION GOOD FOR?
The length of time that calibration is good for depends on the item being calibrated. For example, scales used in more critical applications may need to be calibrated more often than those used in less critical applications. On average, recommended calibration intervals fall between 1 and 12 months for most scales.
HOW DO WE ENSURE TRACEABILITY FROM A CALIBRATION CERTIFICATE?
At Scales Plus, our calibration reports feature a minimum 6-point verification and are NIST traceable using test standards that are inspected in-house every 3 months and—at a minimum—re-calibrated bi-annually by an NVLAP-accredited metrology lab.
Each test consists of dedicated procedures to ensure an accurate and repeatable process. After our technicians perform the calibration, they create a calibration certificate that reports the specific performance of the scale or balance. Before the traceable certificate is approved, a second Scales Plus technician reviews it and ensures that the information provided is correct.

WHERE DO I GET A NIST CERTIFICATE FOR MY SCALE?
You can get a NIST traceable calibration certificate with almost any new scale purchase from Scales Plus. Simply look for the "NIST Traceable Calibration Certificate" option above the "Add to Cart" button on qualifying scales and balances. You may also give us a call and a member of our team will assist with your order.
Visit our scale calibration page to learn more about our white glove services and get started with your own NIST traceable calibration. Or, head over to our scale service page for help with calibration, configuration, or any number of other issues and our certified scale technicians will be happy to assist.