Posted by Jon M on Aug 1st 2023
Buying a floor scale requires careful consideration to ensure it meets your specific needs and provides reliable measurements. Factors such as capacity, environmental conditions, space and communication options must be taken into account to make sure your operations run smoothly. There are plenty of things to plan for which is why we've put together this step-by-step guide outlining the considerations you need to make when purchasing a new floor scale.
Size and Capacity
Define the maximum weight capacity required for the items you will be weighing. Ensure the floor scale capacity is well above your heaviest load to avoid overloading. Many floor scale platforms have built-in overload protection up to 150% above the maximum capacity, but it is still best to consider a model that has a capacity safely above your heaviest items to be weighed.
Common capacities range from 2000lbs to 10,000lbs with 5,000lb models being the most popular. Higher capacity options from brands like Rice Lake can achieve up to 30,000lbs or more for specialty models.
Floor scales come in various sizes, most commonly 4x4' and 5x5', with a variety of other sizes available as well. Make sure the floor scale is large enough to fit your largest pallet or items and that it will fit in the space you have available. Be sure there is enough space around the scale to keep a clear path for pallet jacks, equipment and personnel.
Do You Require an NTEP Floor Scale?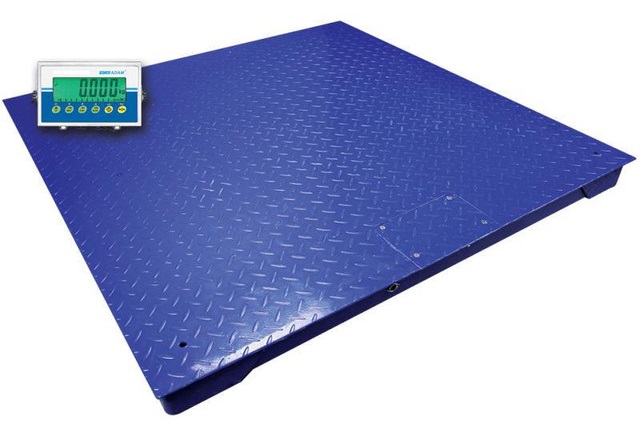 Will you be selling a product by weight? You may need an NTEP approved floor scale. NTEP approved scales are approved for use in legal-for-trade applications where goods are sold by weight. These rules vary by state, so you'll want to make sure you check with your local weights and measures department to verify if you'll need an NTEP approved model.
NTEP Floor Scale Package We Recommend
Units of Measurement
Ensure the scale supports the units of measurement you require (e.g., pounds, kilograms, ounces, grams). Some scales offer multiple units, providing flexibility in different applications.
The indicator that powers the floor scale will have specifications that notate which units of measure are available. These are often times selectable in the menu options, while some indicators have a convenient units button on the keypad.
Wet or Extreme Environment?
Consider the materials used in the scale's construction. Stainless steel scales are suitable for industries with harsh environments or high sanitation requirements, while mild steel may be sufficient for less demanding applications.
Assess the environmental conditions in which the scale will operate. If it will be exposed to moisture or dust, consider a floor scale and indicator configuration with higher environmental protection (e.g., IP65 or IP67-rated scales). This is especially important as it relates to the indicator. Indicators with higher IP ratings will be better protected from dust, debris and water. This is a critical consideration since the indicator is the controller and display for the floor scale system.
Indicator Display
Indicators are the controller and operator display for floor scale systems. There are a variety of display options available including LCD, LED and touchscreen. You'll want to consider the lighting conditions in your environment, as well as the distance from the scale you'd like operators to be able to maintain visibility.
For low light conditions, consider an indicator that has a bright high-contrast LED display.
If you're planning on viewing the display from a distance, choose an indicator with the largest display possible. Some indicators are designed with visibility in mind and feature much larger and brighter displays.
Scales Plus provides product specifications in the "Specifications" tab on every product page. Take a look at the specs when making a decision based on the display type and size.
Portability and Mobility
Determine if you need a portable floor scale with built-in wheels for easy relocation. This is particularly useful in settings where the scale needs to be moved frequently.
Some models include integrated wheels in the frame, while Rice Lake offers a portability frame that houses the floor scale platform and makes them mobile. If you're considering moving the floor scale from location to location, you may consider one of these portable options.
Power
Most floor scale packages include an indicator that is powered by a 115V AC adapter. This means you'll need to put the indicator in a place where power is available.
Some indicators also include an option for a rechargeable battery. As mentioned previously, if you are interested in portability, it would be ideal to choose a setup that includes the option of a rechargeable battery.
Specialty Floor Scales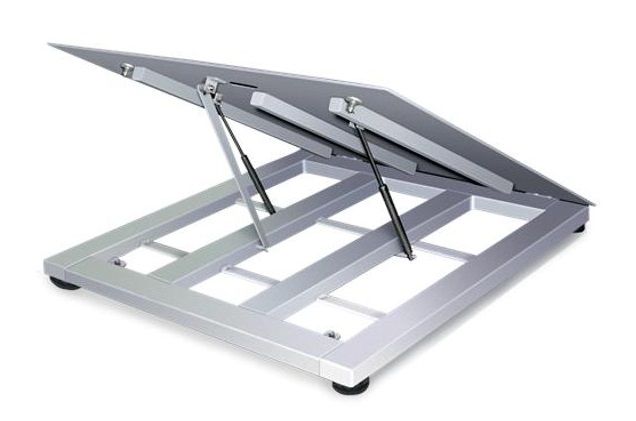 Some industrial applications require specialty floor scales designed to work within a unique environment or with volatile materials. These industries typically include pharmaceuticals, chemical and energy.
Stainless steel floor scales are designed for use in harsh and wet environments. These may be necessary when cleanliness is important. Stainless steel floor scales may also have additional anti-corrosive properties that are better suited for specific materials.
Lift-top floor scales like the Autolift HE Hostile Environment floor scale and RoughDeck QC-X Quick Clean floor scale models from Rice Lake feature a hinged top platform that allow easy access to the inside of the platform. This provides a quick and easy way to thoroughly clean in and around the platform.
Communication
Communication ports allow connection to external devices such as PCs, printers, remote displays, relays and lights. What communication is included is one of the most common questions we get here at Scales Plus. Be sure to check the specifications of the indicator to see which communication options are included, or ones that are available as an accessory. Some indicators offer additional communication ports to expand connection capability. Many floor scale indicators will include some form of communication, including RS232, USB, inputs and outputs, and Ethernet.
Ramps
When dealing with higher capacity weighing, access to the scale platform is important. If you do not have a fork truck and need to manually load your materials, floor scales with ramps can help tremendously with loading and unloading. They make it much easier to access the platform using manual pallet jacks and dollies. Some models include ramps while others can be purchased as an accessory.
Floor Scale Prices and Warranty
Floor scale prices range significantly with economical options that perform basic weighing to more advanced systems that offer additional features such as expanded communication, multiple weighing modes and specialty construction for demanding environments.
Consider the warranty when making your purchase. Warranties are typically 1-2 years from most brands, while manufacturers like Adam Equipment offer a 3 year warranty. Some manufacturers warranty individual components of the floor scale system at different intervals. For example, they may warranty load cells for 1 year, while the remainder of the system is warrantied for 2 years.
Scales Plus makes it easy to view the manufacturer's warranty on our product page. Simply click on the "Warranty Information" tab and you'll see the warranty term clearly displayed for the floor scale you're viewing.
After-sales Support
Consider the availability of technical support, service, and spare parts for the scale. Good after-sales support can prolong the life of your scale and ensure its continued performance.
Scales Plus proudly offers technical support from trained technicians as well as additional scale services including calibration, preventative maintenance and repair. Scales Plus is A2LA accredited to ISO 17025:2017.
By following this step-by-step guide, you can make an informed decision when buying a floor scale that best suits your requirements and budget. Always remember to carefully read the product specifications and consult with a member of our team if you have any questions or specific needs.