Posted by Greg J. on Oct 7th 2021
If you've ever weighed a sample in a lab setting, you know it doesn't take much to throw off an analytical balance. That's because, with a readability of 0.1 mg (0.0001 g) or better, something as small as a pesky fly, a rogue draft, or even a stray hair or two can be enough to muddy your readings.
That's why many labs and other settings where analytical balance are used have such strict guidelines in place to remind researchers of the proper precautions to take. If your place of work doesn't have such reminders, you can follow our seven analytical balance best practices below.
1. MAINTAIN A CONSISTENT LAB TEMPERATURE
Balances are a lot like people—we do our best work when we're at a comfortable temperature. For analytical balances, that ambient temperature should be somewhere between 18°C and 30°C. While the exact temperature you choose isn't overly important, what you do need to avoid are significant variations in that temperature.
Keep your balance as far away as possible from any doors, windows, and air vents, as drafts, direct sunlight, and other sudden temperature fluctuations can all cause a significant misreading. Of course, some top-tier analytical balances come with an automatic temperature adjustment feature, but it's definitely not standard on all models so you'll need to be careful.
2. CHOOSE A STABLE AND LEVEL SURFACE FOR YOUR BALANCE
We know you're not conducting measurements from atop a sofa cushion, but you'd be surprised how many professional researchers overlook the importance of a sturdy surface. If possible, always place your balance on a built-in countertop or a heavy (marble, stone, etc.) table. If you don't have such a surface, you're encouraged to check out our selection of anti-vibration weighing tables.
Once you have your surface selected, the next step is to make sure it's perfectly level, because even the slightest slope can throw off your readings. Use your balance's built-in bubble level (if it doesn't have one, a standalone level should suffice) and adjustable foot screws to dial it into horizontal perfection.
3. CHECK YOUR SURROUNDINGS FOR POSSIBLE INTERFERENCE
It's a pretty universal truth that every single animal in Australia—if given the chance—would try to kill you. Believe it or not, your lab environment is rather similar, except that everything in it is trying to kill your accurate readings. Don't give them that chance!
The first thing to do is make sure there's nothing between your balance and the ceiling above it that could fall or collect dust. Second, remove any magnets within a three-meter radius. Finally, place a discharge ionizer next to your balance to prevent any unwanted electrostatic charges, especially when working with dry, non-conductive samples.
4. KEEP YOUR ANALYTICAL BALANCE CALIBRATED AT ALL TIMES
Calibrating a balance is a lot like saving a word document—there's no such thing as doing it too often. Trust us, you don't want to get to the end of the day only to realize your scale wasn't properly calibrated the whole time.
We recommend you set up a strict calibration schedule and stick to it, whether that's on a daily or weekly basis. In addition, you should get in the habit of recalibrating your balance every single time it's moved, without exception.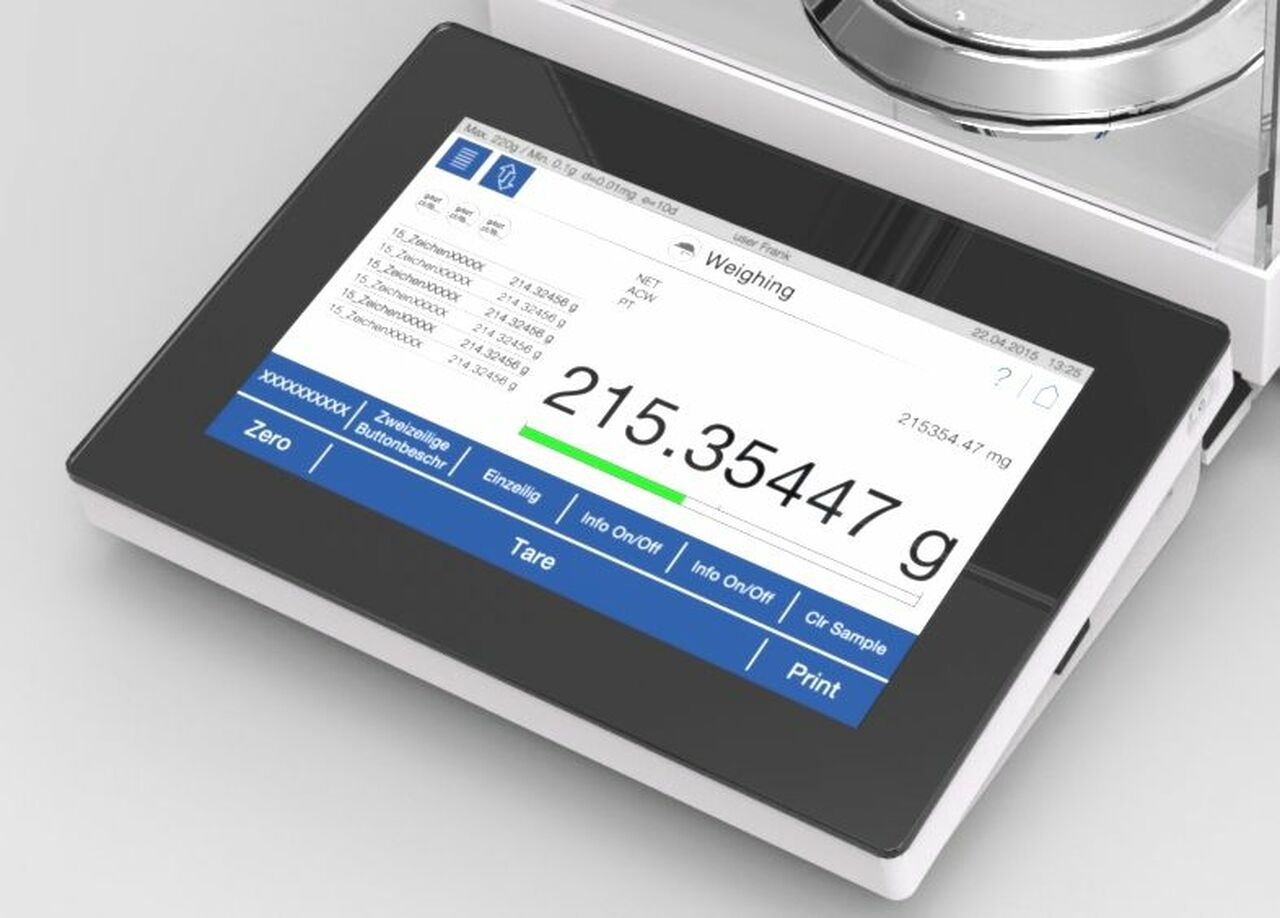 5. MAKE SURE YOUR BALANCE IS CLEAN BEFORE WEIGHING
Hey, we get it, spills happen. You can't make an omelet without cracking a few eggs, right? That makes it all the more important that you check your balance before each measurement and clean it when necessary. Not only can spilled particulates throw off your readings, but they can also contaminate future samples, which is obviously not good.
Fortunately, most analytical balances are designed to be easily dismantled, making cleanup super quick and easy. You can use a soft brush to remove dry, minor messes and a mild soap or another suitable, non-aggressive solvent for those more stubborn stains.
6. ALWAYS HANDLE YOUR WEIGHTS AND SAMPLES WITH CARE
User error is such a persistent problem in the scientific field, experts have gone to such lengths as to classify them into three distinct categories: Systematic errors, random errors, and our personal favorite—blunders.
To minimize these human errors as much as possible, take the following precautions:
Always wear gloves: Even the oils on your fingertips can cause errors in your readings.
Use tongs or tweezers: Avoiding all contact with the samples is typically the best option.
Don't lean on the table: You might not even think about it, but this can risk unwanted vibration.
Properly store your weights: When not in use, keep your calibration weights upright inside a closed container.
7. DON'T FORGET TO SHUT THE DRAFT SHIELD DOOR
Because of their incredibly precise readability, all analytical balances come with a clear draft shield. In fact, that's one of the key differences between an analytical balance and a top-loading balance, as the shield makes it physically impossible to load from the top.
The purpose of the draft shield is to isolate the weighing pan from the rest of the lab environment, as even just a minor breeze from someone walking by can disrupt the reading. In other words: the shield door is there for a reason, so keep it shut when taking your readings!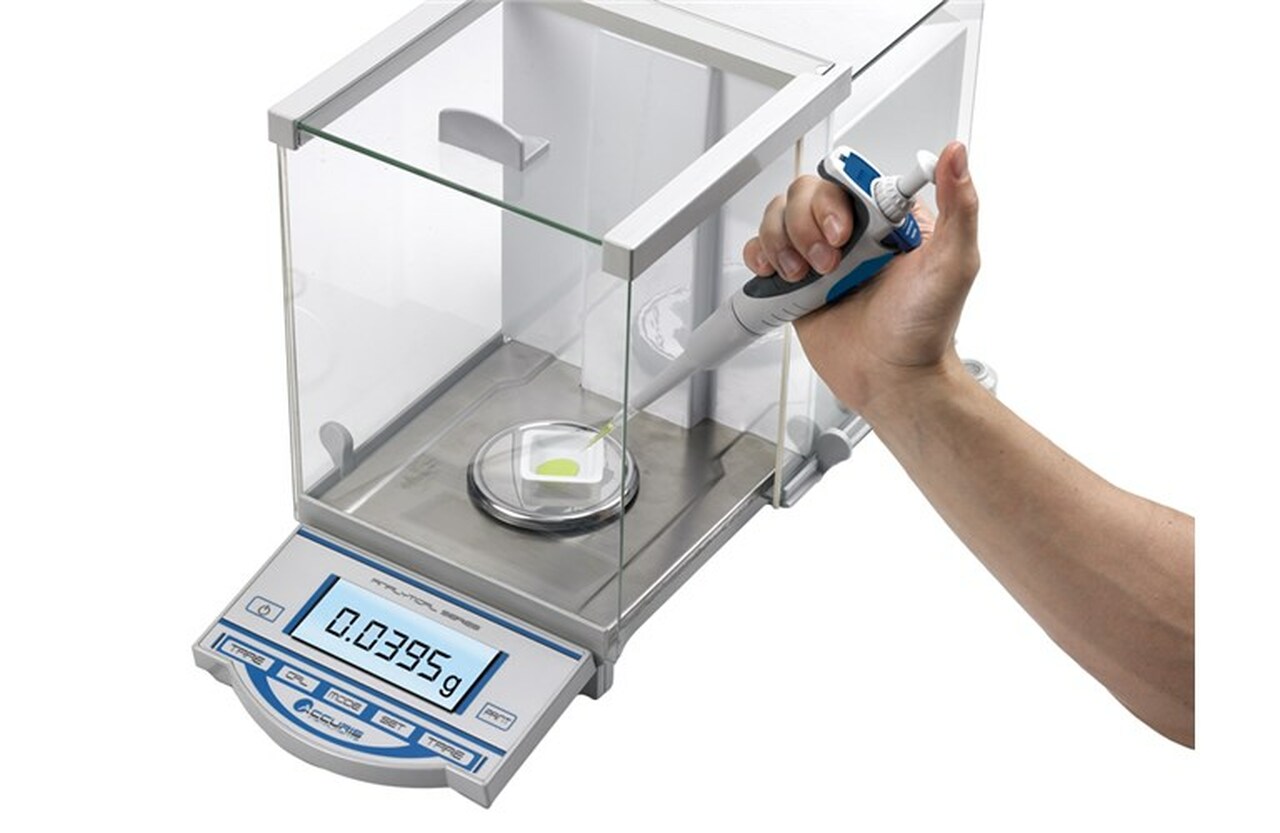 FIND THE MOST PRECISE ANALYTICAL BALANCES AT SCALES PLUS
There you have it. If you follow these seven best practices, you'll be a far more consistent and accurate data collector, which has never been a bad thing.
If you've read this far and you're thinking to yourself, "I could certainly use some new equipment," then you've definitely come to the right place. We have a huge selection of analytical balances from some of the most trusted names in the industry, such as A&D, Adam Equipment, and Mettler Toledo—all with a readability of 0.1 mg or better!
For more information about analytical balances, their uses, and how to properly operate them, contact a weighing expert at Scales Plus. We are always happy to help.