What's the one thing that gets heavier the more it dries?
A towel. :D
Bad jokes aside, everything else on the planet—almost without exception—gets lighter as more moisture is removed. Water is surprisingly heavy, which is precisely why the term "water weight" exists.
When it comes to accurately measuring something, you probably want to account for all that moisture—but what's the best way to do that?
By using a moisture analyzer, of course!
WHAT IS A MOISTURE ANALYZER?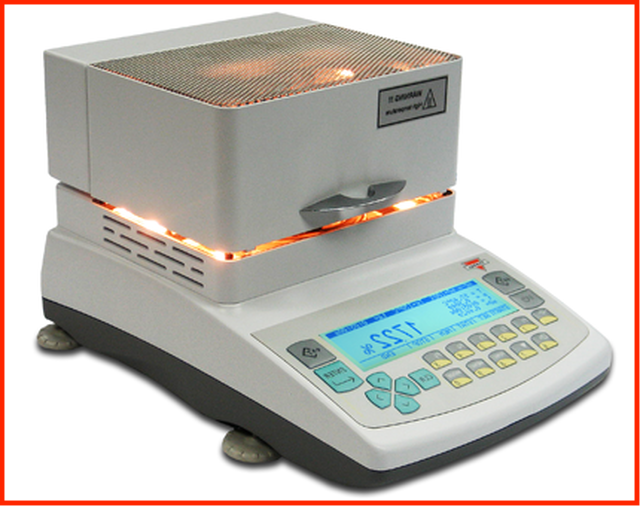 A moisture analyzer—sometimes also referred to as a moisture balance—is a special type of scale used for quality control across many industries, ranging from food and chemicals to plastics and pharmaceuticals.
As the name suggests, a moisture analyzer is used to determine the moisture content in certain samples by recording the total weight loss after a heating/drying stage.
Before we go any further, it's important to note that "moisture" in this case refers to more than just water. Fats, alcohols, and other solvents can also add weight to a sample and should thus be accounted for.
This process of measurement that moisture analyzers use is commonly known as the Loss-On-Drying (LOD) method. The LOD method is based on the thermogravimetric principle, which is an unnecessarily complicated way of saying a substance is heated until it is completely dry, or no more weight can be lost.
HOW DOES A MOISTURE ANALYZER WORK?
You begin by placing your sample onto the measuring plate and closing the lid. You enter in your desired settings, and then the machine records an initial "wet" reading.
The machine will then heat the sample and slowly remove any vapors through a built-in vent. Moisture analyzers come in a wide range of different heating elements, such as a halogen lamp, metal heater, IR emitter, and microwave radiation heater, with each one having specific benefits/drawbacks and preferred industries.
Once the sample is completely dry and all vapor is removed, the machine takes a second "dry" reading. The wet weight is then divided by the dry weight to determine the total moisture content in the sample, typically expressed as a percentage.
HOW ACCURATE ARE MOISTURE ANALYZERS?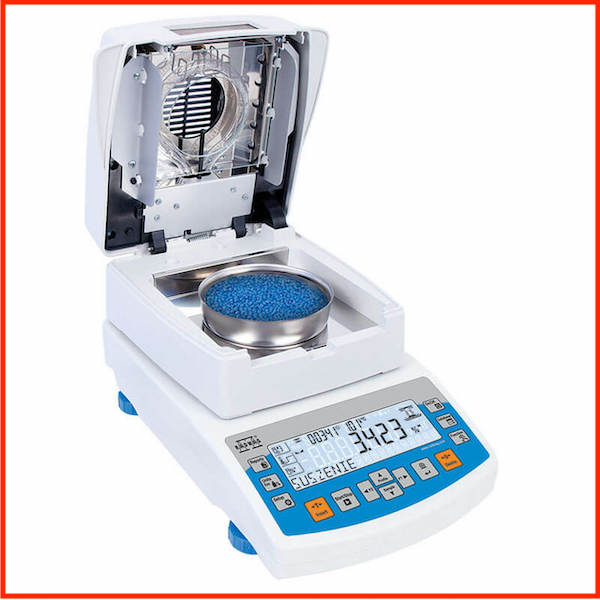 Like with any other type of scale, moisture analyzers are available in a wide variety of temperature ranges and accuracies, depending on your needs and budget. The vast majority, however, can give you a moisture readout accuracy of anywhere between 1% and 0.0001%.
For the highest level of accuracy, moisture analyzers are commonly paired with anti-vibration tables and glass "anti-draft" weighing chambers.
SHOP THE BEST SELECTION OF MOISTURE ANALYZERS AT SCALES PLUS
Now that you have a basic understanding of moisture analyzers and how they work, it's time to find the best model for your needs. At Scales Plus, we have a huge selection of moisture analyzers from popular brands such as Ohaus, Radwag, Torbal, and Mettler Toledo.
Still have questions? Need help finding the right one for you? We're always happy to help! Give us a call at 616-622-2100 or shoot us a message and we'll do our best to provide you with the answers you're looking for.