Posted by Greg J. on Aug 2nd 2022
If you're in the market for a new mass comparator balance, it's important to understand how this type of equipment works and what features to look for. In this article, we'll provide an overview of mass comparator balances and explain some of the key considerations when purchasing one. We'll also discuss some of the benefits of using a mass comparator balance in your everyday laboratory applications.
WHAT IS A MASS COMPARATOR?
A mass comparator is a type of balance used to determine mass differences between a test mass and a known reference mass. Many larger models are designed to manage your entire calibration process—from the moment an order is placed to the completion of the calibration certificate.
Mass comparator balances are generally very sensitive and can be easily affected by factors such as air currents and vibrations. To mitigate these effects, mass comparators should be used with draft shields and anti-vibration tables, and in temperature-controlled environments.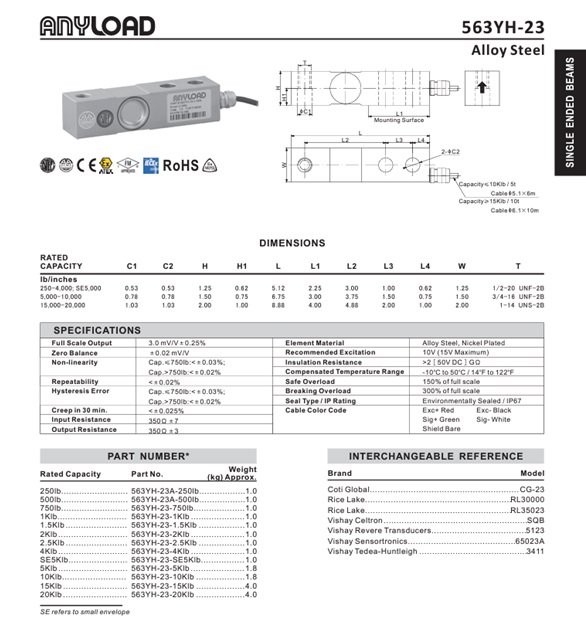 A&D WEIGHING MC-1000S MASS COMPARATOR BALANCE
HOW DOES A MASS COMPARATOR BALANCE WORK?
The main function of a mass comparator balance is to compare the mass value of a single test mass to the mass value of a single mass reference standard. With an automatic mass comparator, the masses are loaded onto the weighing sensor using an internal loading mechanism that is operated by the computer's controller.
Sensors for temperature, humidity, atmospheric pressure and even vibration may be used to monitor external conditions for optimum measurement parameter control. An example of a monitoring device would be the A&D Environmental Data Logger. Some models have these sensors built right into the comparator and they will also automatically record the temperature, humidity, pressure, and vibration for each comparison performed.
Many mass comparator balances are able to generate, archive, and send calibration data directly to a PC, allowing for calibration certificates to be printed using pre-loaded and customizable templates.
WHAT ARE THE DIFFERENT TYPES OF MASS COMPARATORS?
There are two main types of mass comparator balances: automatic and manual. Manual mass comparators require the operator to manually load the test masses and reference masses onto the comparator. The operator must also determine when to record displayed weight data. Automatic mass comparators are controlled by a computer and will load masses onto the weighing sensor and automatically record weight data.
Automatic mass comparator balances are typically more expensive than manual models, but they offer a number of advantages, such as automated record keeping, real-time display of measurement results, and even the ability to generate calibration certificates. If you're looking for a mass comparator balance that can streamline your workflow and save you time, an automatic model may be the best choice for you.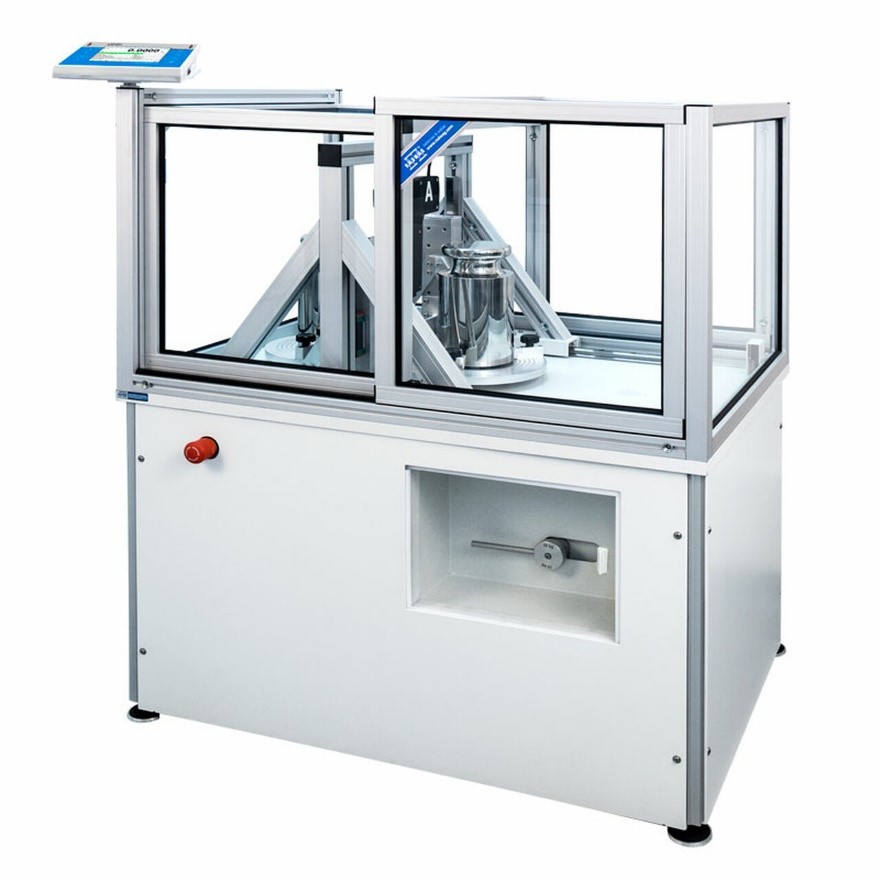 RADWAG AKM-2/50 AUTOMATIC MASS COMPARATOR
COMMON APPLICATIONS OF MASS COMPARATOR BALANCES
Mass comparators are most commonly used in metrology laboratories but are also used in scientific and industrial laboratories, as well as other environments where accurate measurements are essential. Some of the most common applications for mass comparator balances include:
Quality control
Process optimization
Weighing small samples
Checking the purity of a substance
Measuring the density of a substance
Determining mass differences between two objects
If you need to perform any of these tasks in your laboratory, a mass comparator balance may be the right piece of weighing equipment for you.
WHAT ARE THE BENEFITS OF USING A MASS COMPARATOR BALANCE?
When used properly mass comparators offer many benefits over other types of balances, such as greater accuracy, repeatability, and sensitivity. They're also surprisingly easy to use and can be operated by a single person. Mass comparator balances can also be used to generate calibration certificates, which can save you both time and money.
KEY CONSIDERATIONS WHEN PURCHASING A MASS COMPARATOR
When shopping for a mass comparator balance, there are several factors you should keep in mind, such as:
Capacity: The capacity is the maximum weight that can be measured by the balance. Make sure to choose a model with a capacity that meets your needs.
Sensitivity: Sensitivity is the ability of a mass comparator balance to detect small changes in mass. Choose a model with high sensitivity to ensure the most accurate measurements.
Accuracy: The accuracy of a mass comparator balance is typically expressed as a percentage of the full-scale capacity. Choose a model with the highest accuracy possible to ensure the most precise measurements.
Reproducibility: Reproducibility is the ability of a mass comparator balance to repeat a measurement under identical conditions. Choose a model with the highest reproducibility possible to minimize errors.
Price: Mass comparator balances can vary widely in price, depending on the features it provides. Determine your budget first and then purchase a model that provides as many of the specifications you need as possible.
Calibration Weights: It is important to use the correct accuracy reference weight when using a comparator to calibrate another test weight. Reference weights should be of a higher accuracy class than the test weight to be calibrated. For example, you wouldn't use an ASTM Class 4 weight as your reference weight to calibrate another ASTM Class 4 test weight. You would use an ASTM Class 3 or higher reference weight to calibrate an ASTM Class 4 test weight. Standards OIML R111-1 and ASTM E617-18 provide detailed information about the design and accuracy of calibration weights and methods for calibrating them. Scales plus offers a wide range of calibration weights.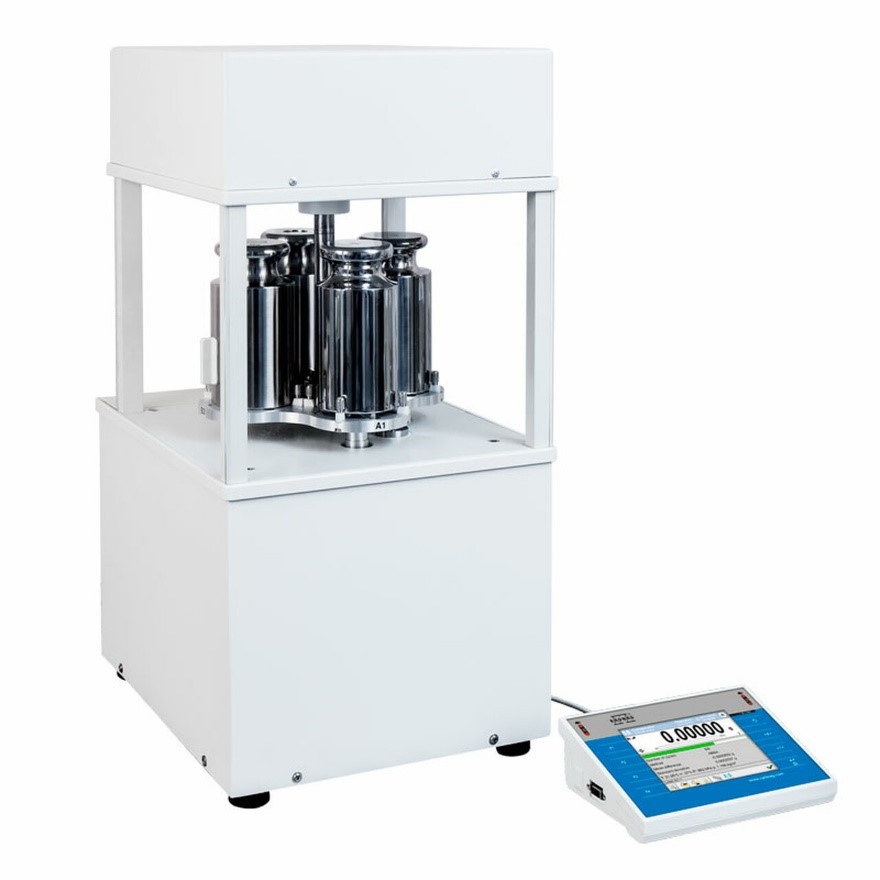 RADWAG AK-4/5000.1 AUTOMATIC MASS COMPARATOR
SHOP FOR MASS COMPARATORS AT SCALES PLUS
If you're looking for a high-quality mass comparator balance that can offer accurate measurements and streamline your workflow, we recommend you browse our incredible selection of mass comparators from Radwag, A&D, and other leading manufacturers. If you have any questions about mass comparators, we encourage you to reach out to the mass comparator experts at Scales Plus. We are always happy to help!