Posted by Greg J. on Apr 11th 2022
When it comes to your business, there are a lot of different things that keep everything moving. Your industrial weighing system is obviously one of those things, but what many people don't think about is how those scales are moved. That's where a mobile scale cart comes in handy.
WHAT IS A MOBILE SCALE CART?
A mobile scale cart, as the name suggests, is a portable metal dolly that is designed to easily move an industrial scale from place to place. They're perfect for businesses that need to move their scales around often or for industries that require a lot of maneuverability.
These custom carts are typically made from either stainless or mild steel and designed with two rigid casters and two swivel casters with locking wheel brakes. Most scale carts come with an array of handy features, such as adjustable-height legs, a storage drawer, and a vertical stand to mount the weight indicator for easy readability.
WHAT ARE THE BENEFITS OF USING A SCALE CART?
Now that you know what a scale cart is, it's time to talk about benefits. So, whether you're just starting out or looking for an upgrade to your setup, here are the top three advantages of using a mobile scale cart in your weighing operation.
1. Portability
If you're like most industrial scale users, then you probably hate having to carry your device around. It's bulky, heavy, and often nerve-wracking to move around (some scales cost thousands of dollars, after all). Wouldn't it be great if there was a way to make moving your scale easier? Well, there is!
With a mobile scale cart, you can easily transport your scale from place to place without any trouble. Not only is this a more convenient option, but it also saves you time and energy. This is especially true if your business requires you to move your scale frequently, such as in a manufacturing, warehousing, or medical setting.
2. Safety
Another underappreciated benefit of using a scale cart is the added safety it provides. When your scale is stationary, it can be easy for employees or customers to trip over the cord or scale platform, leading to a potentially costly workplace injury. Not to mention the damage caused to the scale by these accidental bumps or drops.
With a mobile scale cart, you can easily move your scale out of the way or into storage when it's not in use. With your scale securely attached to the cart, the added size and weight will also help prevent your scale from falling or being knocked over.
3. Storage
The final advantage of using a mobile scale cart in your weighing operation is the additional storage you'll always have on hand. Many scale carts come with optional drawers, shelves, or paper roll holders. This means you'll never be out of reach of the scale accessories you need, from extra cables and power supplies to printers and calibration weights.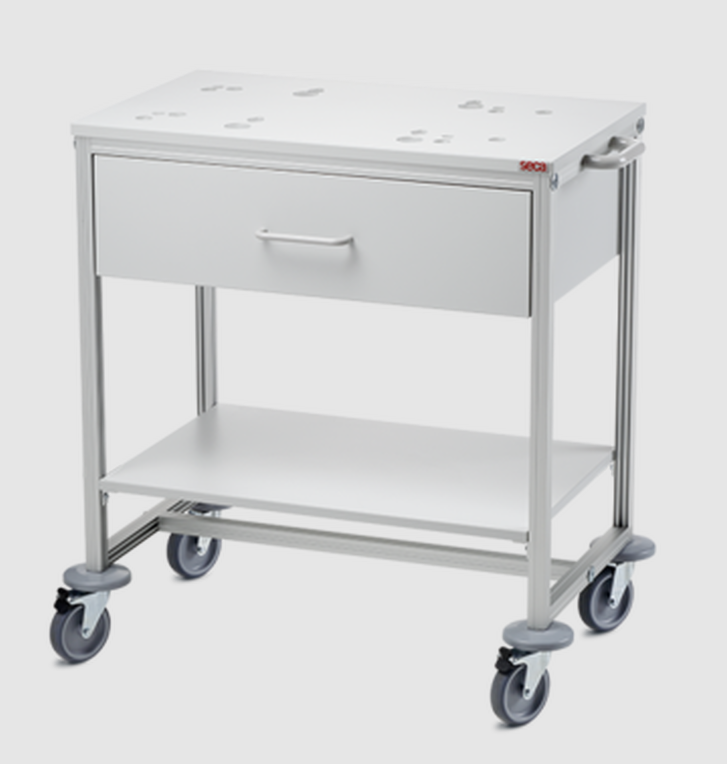 SHOP THE BEST SELECTION OF SCALE CARTS AT SCALES PLUS
Thanks to the added portability, safety, and storage they provide, if you're looking for a way to make your life a little easier, then investing in a mobile scale cart is definitely the way to go. Regardless of your weighing needs, Scales Plus has the ideal model for you—in stock and ready to ship.
Shop our full mobile scale cart collection from some of the most trusted brands in the industry, including Seca, MSI, and Rice Lake. And as always, if you're unsure which product is right for your business, please reach out to one of our scale cart experts and we'll do our best to provide you with the help you need.