Posted by Greg J on Sep 1st 2021
One glance through the Scales Outlet catalog of NTEP-certified food scales and it's easy to see there are literally hundreds of different options to choose from. From portable food prep scales to large washdown checkweighing scales, we have the perfect product to meet your weighing needs no matter how simple or complex.
When it comes to food prep scales, you really can't go wrong with the highly-rated OHAUS Valor 1000. Here are five reasons to choose this popular food scale from one of the most trusted brands in the industry—OHAUS.
1. CONSISTENT RESULTS EVERY TIME
One of the biggest issues with low-end scales is inconsistency in the weighing results. As anyone in the culinary field will tell you, there's nothing worse than weighing a food portion, then immediately weighing it again only to get a different reading! With readability specifications that are accurate up to 0.001 lbs. (depending on the model), the Valor 1000 series of food prep scales are engineered to produce consistent results you can trust.
2. A SIMPLE, RELIABLE INTERFACE
In the culinary world, the fewer steps in which something can be completed, the better. So, why should food prep scales be any different? With the OHAUS Valor 1000, you're getting a reliable, easy-to-use scale for all-purpose food weighing. Featuring an intuitive two-button design and a large backlit LCD display, these scales have been developed to deliver the kind of performance your kitchen can depend on.

3. A DESIGN THAT FITS ANYWHERE
Let's face it—in many professional food prep environments, space is a premium. If two scales provide the same functionality, the one that takes up less countertop is the one that will get used. The OHAUS Valor 1000 does what many other food prep scales simply can't—it fits virtually anywhere. Designed to be used in compact spaces, this series of scales is a great option when operating in tight quarters is your everyday reality.
4. MAXIMUM ENERGY EFFICIENCY
There are many times when it's just easier to bring the scale over to your prep station. When you do, you need a portable, cordless scale that won't lose its charge before you're finished working. Amazingly, the Valor 1000 can operate for up to 1,500 hours on just four D-cell batteries! This type of efficiency means you can reliably operate the scale in almost any environment without having to worry about having a power supply is nearby.
5. HASSLE-FREE CLEANUP
If you've ever seen a commercial kitchen at the end of a long day, you'll know—your food scale is going to get messy. That's why the best balances are made with easy cleaning in mind. The Valor 1000 Series features a removable stainless steel pan and an in-use cover made from plastic that is NSF-certified for HACCP systems. It's easy to use, dependable, and effortless to clean. What more could you ask for in a food prep scale?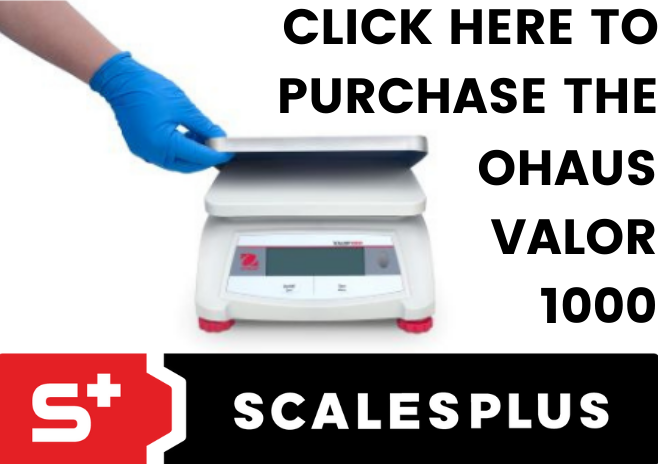 FIND THE BEST FOOD PREP SCALE PRICES AND SERVICE AT SCALES PLUS
Are you convinced the OHAUS Valor 1000 is the perfect scale for you? Then hurry up and snag one at our incredibly discounted price, before they're all gone! If that's not the product for you, we also carry a wide variety of other NTEP legal for trade food scales from well-recognized brands. Don't forget that we offer free product support and application assistance from qualified technicians, so don't hesitate to reach out if you have any questions.