Posted by Jon on Apr 22nd 2022
The earliest farmers market dates back to 1730 in Lancaster, Pennsylvania, long before digital scales were invented. Since then, farmers markets have grown in popularity and have become staples in many communities across the country. And as is true with any profession, sellers at farmers markets need equipment they can rely on, including weighing scales.
There are a few things to consider when choosing the right scale for selling by weight. One of the most important is to select one that has NTEP approval. Many states require sellers to use NTEP approved scales for selling produce and other foods sold by weight. I highly recommend getting an NTEP approved scale no matter where you are to ensure you're covered.
Several other important factors will determine which scale is best for you including capacity, battery power, PLU capability and price computing capability. Often times, folks will use a price computing scale at their farmers market stand. These are similar to what you'd see in a deli or butcher shop. Unique product IDs are saved in the scale with a price per weight. When a customer purchases a product, the ID is input into the scale and a price is calculated based on the measurement and the price set in the scale.
Given their capability and convenience, I am with many others in saying that a solid price computing scale is the best option for use at the market. There are a lot of options out there that'll do the job well. To help save some time, I've chosen my top 3 options for farmers market scales in 2022 to share with you.
(this blog was updated to be current for 2022)
CAS Price Computing Scales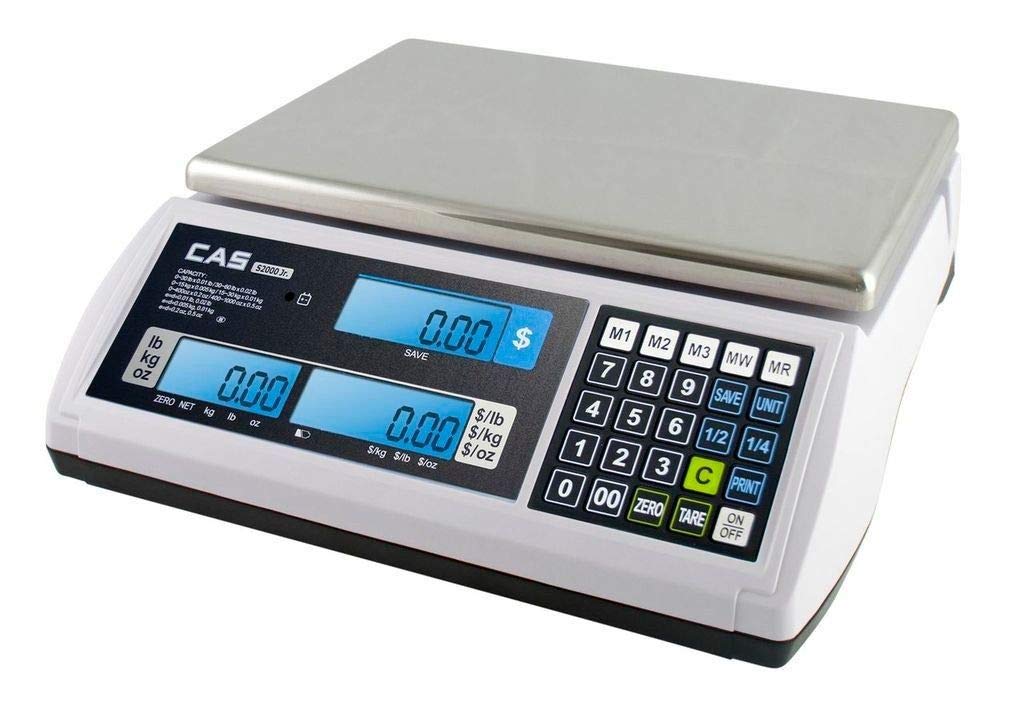 The S-2000 Jr Series from CAS is a price computing scale designed for retail and food environments. Displays on both sides of the scale allow the operator and customer to view total price, weight, and unit price. The tactile switch keyboard allows the operator to access PLUs, of which 200 can be stored. Its stainless steel weighing platform is durable and easy to clean.
CAS price computing scales are ideal for farmer's markets but can also be used in retail stores, candy stores, or any general purpose weighing application
CAS S-2000 Jr series price computing scales offer an affordable option for farmer's market sellers, while providing the necessary functions to get the job done.
Cardinal Detecto D Series Price Computing Scales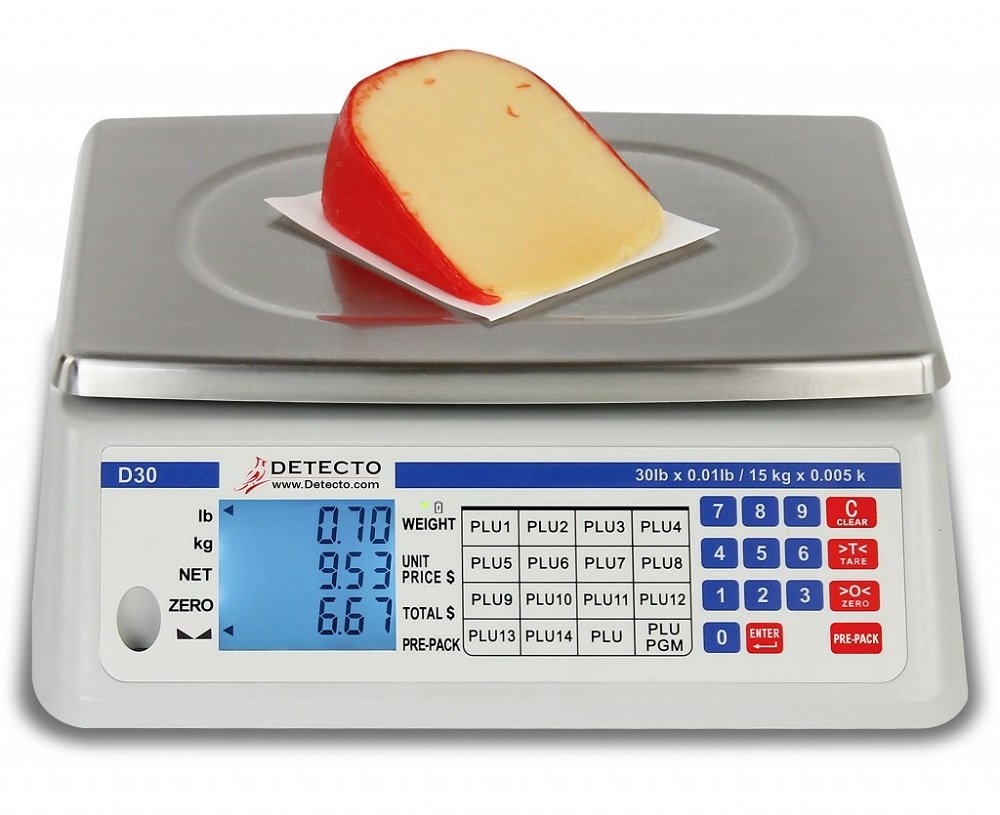 The Cardinal Detecto D series is a low maintenance and cost effective solution for a price computing scale. It offers up to 99 PLUs with 14 direct keys and 85 indirect PLUs. There are two options to provide power to the scale, firstly being the AC adapter, and second the internal rechargeable battery. Battery power is what enables the D series to perform reliably in portable situations such as farmers markets.
The D60 is a great choice for farmer's markets and Cardinal Detector is a widely recognized brand in price computing and food grade scales. They are also commonly found in delis, bakeries, coffee shops, and hardware stores.
If you're looking for value, performance and quality, take a look at Cardinal Detecto D Series price computing scales. A 2 year manufacturer's warranty is included.
Shop Cardinal Detecto D Series
Rice Lake RS Series Retail Scales
Rice Lake RS series retail scales are NTEP Certified and powered by a rechargeable battery. These scales also feature a 'low-battery' indicator, reducing downtime by letting the user know when a recharge is needed. Designed for accuracy and portability, RS series retail scales offer an affordable solution for simple price computing needs.
These scales feature cash back calculation, which allows the user to efficiently calculate refunds where a cash register is not present. This helps streamline checkout and improve customer experience.
Rice Lake RS series scales are a high-quality, affordable option that offer versatility to serve effectively in a wide variety of applications, including farmer's market stands.
Conclusion
These scales represent my top 3 choices for farmers market scales in 2022. They offer affordability, portability and convenience that are ideal for produce and meat stands. There are plenty of other options as well. No matter which scale you choose, consider NTEP approval, capacity and portability before you buy. Make sure all your bases are covered. Besides, profitability is just as awesome as a day spent hanging out at your local farmers market!